Most people treasure their time, body, and mind outdoors. It's one of the best ways to extend your living area, especially if you've been caught indoors because of the weather or you're staying at home most times because of the lockdown. So, it's necessary to make it more inviting with the right accessories and furniture.
The proper guidance and quality of staff make it easy to transform your outdoor space to create a relaxing holiday retreat. Doing this will lead to more quality time outdoors in favor of fresh air and natural sunscreen.
Decorate your yard with Christmas decorations that don't necessarily require too much effort and money, just some creativity and small touches that significantly impact the space. Here are simple and creative ways to upgrade your outdoor space.
Add In Some Lights
Adding in some light will give your outdoor space an instant upgrade making it one of your favorite places to hang out with friends and family. But not all lights create this. Ensure you choose the proper installation lighting to feel and see the beautiful impact it has caused. You can also use lighting to draw your walls horizontally or vertically, which is useful when decorating a small area.
Most people love hanging their string lights in the outdoor area because it looks more attractive and creative. You can try hanging them along the pole pillar. This creates a unique ambiance with a softer glow to the area. Doing this will increase your urge to spend more time outside, even after sunset.
In addition, if you find it challenging to choose the right ambiance that makes a statement, at first sight, consider having a professional help you fix and arrange your outdoor lights.
Add More Plants
Decorating your outdoors with plants helps you merge indoor and outdoor spaces. Plants make things lively, including the outdoors, backyards, and indoors, especially if you live in the city and have a blank balcony. Adding some green touch and choosing brightly colored pots will make the space more appealing and bring its vibrancy.
If you have a naked wall, consider hanging your plants along them to create a living fence. Planting doesn't mean just having any plant. Choose something like rosemary, basil, mint, or any other plant that has a pleasant scent and is functional in cooking.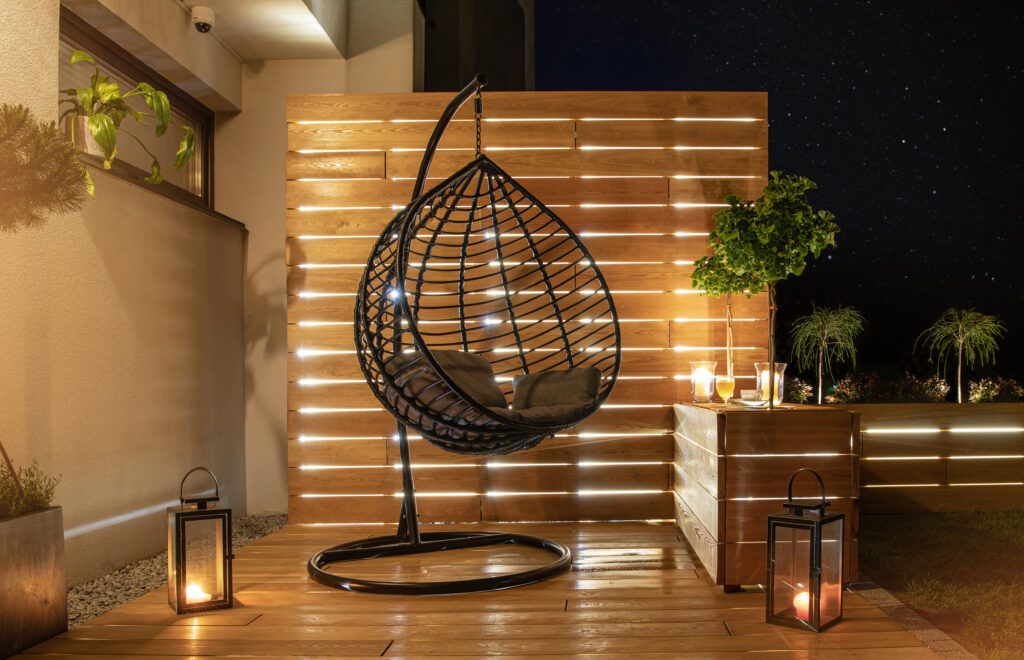 Hang Curtains
To spice up your outdoor space and make it a little private, hang some curtains. If you have seats or playing rug, or an outdoor kitchen, consider hanging curtains around to make the place more private and secure from your nosey neighbors. For more specifics, ensure your curtains are heavy for more protection from the sun and rain.
Using curtains in your outdoor space will add a unique character to your area. Additionally, with curtains, you can change your theme from time to time without stretching your budget. It's the more manageable and the cheapest creative way to upgrade your outdoor space for the holiday.
Create A Dining Space
You'll want one on your patio if you enjoy dining outside with your family during the holidays. However, when selecting your outdoor dining furniture, mind your space, the number of people to host, your style, and how much focus you'll want to create in the dining space. Doing this needs a professional to help you design the perfect dining area.
If your outdoor is large, consider setting up a large dining table with an umbrella to cover it. Or if you don't have space, something small like bistro tables is a good option. Additionally, you should also consider the activities that are primarily done in your patio space. If it's mostly entertainment, then set up some high-top tables.
Include Some Entertainment
Entertainment is always an amusement to most people, especially kids. So, bringing out some entertainment in your outdoors will be more fun. Having indoor entertainment will make your outdoor space one of the favorite areas for you and your family to spend time together during the holidays.
Don't stop at connecting a speaker and setting up an outdoor rug. Consider an outdoor television or a projector kit to watch any movie in your comfort zone. You might even want to take things to the next level by inviting friends and neighbours for an outdoor Christmas movie night.
Add Some Fire
Having a fire pit in your outdoor space makes the area look cozier. Adding some fire also makes you enjoy your holidays even during the cold seasons. If you don't have a chimney, consider a fire pit in your outdoor space. Having this creates more bonding time with family and friends outside your home.
Conclusion
With the above article, now would be the perfect time to transform your outdoor space for holidays. However, have someone with experience to help you with the set-up and more designs.