Coke and Popcorn was a website for unlimited streaming of high-quality movies and tv shows. When using an online streaming website, you might worry about safety. The safest way to use a site like Coke and Popcorn is to use a VPN. A VPN hides your IP address, allowing you to bypass the geo-restrictions. Using a VPN is entirely legal. The rules and regulations surrounding streaming sites like Coke and Popcorn depend on the county you are in. In many countries, it's legal for you as a viewer to use streaming sites, regardless of whether the site has the proper licenses or not.
The Coke and Popcorn website gained a lot of popularity in a short time. Until one day, the website was locked down for some reason. This might be why you're here looking for an alternative. There are many online streaming sites for you to use. We'll sum up some of the best alternatives to Coke and Popcorn here in this article, but there are many more out there.
The Best Alternatives to Coke & Popcorn of 2020
The Watch Series
The Watch Series is a trendy online streaming website. It has a massive library of movies and tv shows. The Watch Series provides many different genres. So whatever you're in the mood for, you'll find it here.
On the homepage, The Watch Series lists popular shows and movies. If you don't have any inspiration, you can look if there is something for you in their suggestions.
Due to legal actions that were taken against The Watch Series. Their domain has changed a lot, so it might be hard to find. But if you do, this is one of the best coke and popcorn alternatives.
Netflix
Netflix is possibly the best coke and popcorn alternatives available. I'm guessing you all know Netflix as it's very popular and used worldwide. But let's throw it in anyways.
Netflix is a paid media services provider. There is no free version which is probably the only downside here. The tv shows and movies collection on Netflix is enormous. Netflix offers a wide range of genres for series, shows, and movies, as well as top documentary films and stand-up comedy specials. Because it's paid, you'll always get excellent quality which is not always the case with the free option. Also, you won't have to worry about using a VPN.
They offer plenty of well-known tv shows and movies but also have a great library of independent and international films. Netflix is best known for its collection of series. You will also find quality Netflix originals as well.
Netflix is very binge-watch-friendly as the episodes keep playing. You don't even have to click. Well, you do if you've been watching for a long time, Netflix will check in with you to make sure you're still paying attention.
The Netflix apps for mobile or PC also offer the option to download episodes or movies within the app. This way, you can watch your favorite shows when you don't have an internet connection.
Not convinced yet? Netflix offers a 30-day free trial, so you can see if it's worth paying for. There are different plans to choose from, including a family/friend pack allowing you to watch from 4 different accounts simultaneously. This gives you the option to share the cost with the other users.
Netflix Party
This one is not precisely a Coke and Popcorn Alternative, as it is not a stand-alone streaming service. However, during the lockdown, it was one of the best ways I found to spend time with loved ones and friends from afar. It earned its way onto all my streaming lists.
Netflix Party is a platform where you can screen share and watch tv shows and movies online with your friends and family. It is an extension available through Chrome. Everyone who plans on watching needs to download it. Then just start a viewing part, and you are ready to get streaming.
If you want to watch movies and tv series with some friends, check out my massive list of best alternatives to rabbits. It is one of the best and most extensive lists of watch party apps and sites. However, the sites and apps on this list do not require a Netflix account. You can watch everything from your favorite tv show to the best Coke and Popcorn alternative.
Hulu
Since we've been talking about Netflix, we might as well through Hulu. Hulu is a subscription-based on-demand video service similar to Netflix. With Hulu, you can stream countless high-definition shows, series, and movies online.
Like Netflix, Hulu also offers Hulu originals. But unlike Netflix, you can watch live TV for sports and news on Hulu. Hulu also offers the option to download episodes or movies to watch later.
Yes, it's paid, but it's worry and hassle-free with guaranteed excellent quality and one of the best alternatives to Coke and Popcorn. Hulu offers different plans for you to choose from, and it also comes with a 30-day free trial.
Fmovies
Fmovies is an excellent Coke and Popcorn alternative and free to use. It has a massive collection of the latest movies, TV shows, and series. So whatever you're in for, you can find it here.
The website of Fmovies is very user-friendly, so you can easily access anything you want. Which is not always the case with free streaming sites, right?
On Fmovies you can search by genre, TV series, country, top IMDB, A-Z list, and news. Or, if you already know what you want, you can type in what you're looking for. The searchability makes it one of the best alternatives to Coke and Popcorn and a top place to find classic cinema online.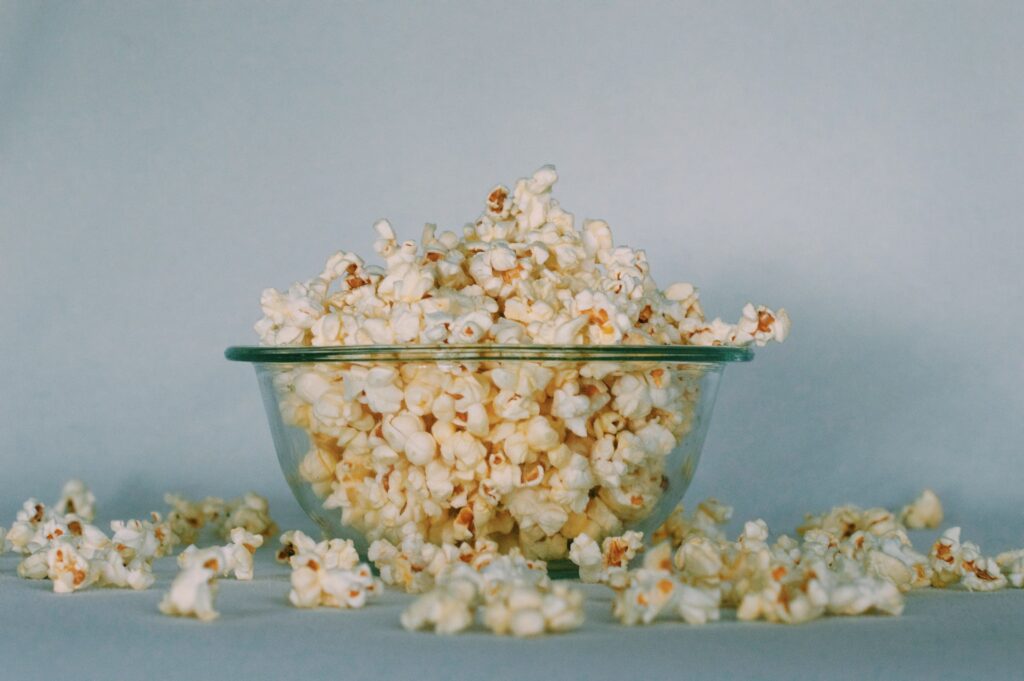 Other Great Coke and Popcorn Alternatives
Amazon Prime
This is another paid option, unlike Coke and Popcorn, yet still an excellent choice. Mainly due to the huge selection of HD quality movies, tv series, and top documentary films available, including some critically acclaimed programming, only found on Prime.
Prime also gives you the option of third-party add-ons. They have add-on content from favorites like HBO and Showtime. So it is a great place to rewatch some classic tv shows like Game of Thrones or The Wire.
Prime also allows you to rent or buy movies and series not included with your subscription. This feature allows you to watch almost anything ever produced. This also allows you to watch your favorite movie or tv show offline.
Now is a great time to give it a try without any commitment. Prime is giving away free trial subscriptions so get it while you can.
HBO Now (Rebranded back to just "HBO")
If you are not interested in getting an Amazon Prime membership. HBO Now maybe your best option for getting your Sopranos fix.
HBO Now is a streaming service that doesn't require you to have an HBO cable subscription. You can find classics, new releases, HBO original movies and tv shows, and some all-time favorites like The Wire and Game Of Thrones.
Being a paid subscription site is not the best Coke and Popcorn alternative. But you never have to worry about an annoying VPN.
PutLockers
If you've been looking for an alternative to Coke and Popcorn, you've probably come across PutLockers. This website lets you stream and download the latest movies and series for free!
PutLockers offers an extensive library of free movies, series, and shows and keeps their site updated with new content, so you're sure to find the new releases here.
On PutLockers, you'll also find the option to save your favorite movies and tv shows in a list so you can easily access them the next time you're in the mood
123movies
123movies is another popular streaming website. They are known for their movie collections, but you can also watch TV shows and series here. You can watch the content of 123movies from any device. No computer, no problem, just use your smartphone or tablet.
123movies keeps its website up to date, which is probably why they have an excellent worldwide user base. Looking for the latest releases? You'll find them here.
The collection of 123 movies is massive. Action, romance, fantasy, animation, you name it, you'll find it here in HD-rip, HD quality, and cinema-quality.
There have been some legal actions against 123movies due to violating the rules and regulations. But it's worth mentioning as an alternative to Coke and Popcorn.
Popcornflix
Another excellent alternative for Coke and Popcorn is Popcornflix, on which you can find any genre you want. On top of that, the massive library offers all-time favorites and classics and the latest hits. You can easily navigate through this library by searching by genre. In the mood for some binge-watching? You'll quickly find the next episode.
A fun feature on Popcornflix is the Viral Vids. So if you're not in the mood for a series or movie, you can watch some people being stupid on video.
Popcornflix is a very well-functioning and up-to-date streaming website with millions of visitors every day, which is why it's worth mentioning as an alternative to Coke and Popcorn. This website is ad-supported but completely free to use.
Crunchyroll
ATTENTION ANIME LOVERS, got your attention? Good! You're going to want to check out Crunchyroll. The collection of anime tv shows and movies here is massive! It may not have the same content as coke and popcorn but still a great pick.
Crunchyroll is the most popular streaming site for anime and is right to be so. This website has a worldwide user base. The content on Crunchyroll supports multiple languages. Next to English, you'll find Italian, Russian, Spanish, French, German, Portuguese, and Arabic.
The library of Crunchyroll holds over 900 anime series, the Crunchyroll manga title consists of 50 manga, and you'll find over 200 Asian dramas.
So are you convinced? Thought so!
CartoonCrazy.Net
Cartoon Crazy Net is another site that only features unlimited streaming of animated content for free. However, Unlike Crunchyroll, the focus here is not only on anime. So if you want to start watching the latest episodes of Bob's Burgers, this is probably the best free place to do it.
If you are looking for anime, this is also an excellent place for anime series and movie streaming. They have all the top genres and an excellent selection of dubbed anime.
Cartoon Crazy net is the best free streaming platform for the latest content in animation.
SolarMovie
Do you hate when ads appear while watching a movie or a series? If so, check out SolarMovie. SolarMovie is free and easy to use without annoying ads popping up. This makes it great for the binge-watcher out there. Another great thing about SolarMovies is that there is no need to sign up for anything.
Since you're all here because you want to watch something, we should mention that SolarMovie offers various genres. You can even search for free movies and tv series exclusive to certain countries.
So, to sum up, no need to sign-up, no annoying ads popping up, and a massive library including exclusive content. This makes SolarMovie a great alternative to Coke and Popcorn.
Tubi TV
Tubi TV offers thousands of the latest movies and tv series you can watch from anywhere in the world. On top of that, this platform is entirely free to use. You will need to register an account if you want to use TubiTV, but there is no subscription fee. Since the content here is massive, you might want to consider creating an account.
If you're a fan of famous studios like Lionsgate and Paramount, you should check out Tubi TV. Here you can stream the latest content of these studios, plus they offer a wide range of genres and even provide the option to download!
I guess you know why we're mentioning it as one of the best Coke and Popcorn alternatives.
Bigstar Movies&TV
This site is an excellent alternative to Coke and Popcorn because of its massive collection. Bigstar Movie&TV is a global market leader in streaming HD movies and tv series, and somehow they went around the barriers for streaming.
They offer a wide range of genres and keep their site up to date by adding new content weekly.
On top of that, Bigstar Movie&TV supports a wide range of devices (Android and iOS), making it easy to watch anywhere you want. Unlike Coke and Popcorn, you can use Bigstar Movie&TV on your Chromecast, Android TV, Smart TV, etc.
Couchtuner
Couchtuner is a lot like 123movies. The design of this site makes searching for new content very easy. This is something Coke and Popcorn had right and also what makes Couchtuner a great alternative.
Couchtuner is available without a subscription or even registering or giving up your email address. Like Coke and Popcorn, they have a great recommendations list, or if you know what you want, they have made searching a breeze.
Tv Series Net
TV series net offers 3000 plus movies and over 400 top-rated tv shows and series. The best part is they offer it all in HD and free. I have come to appreciate the ranking and rating system they offer. It makes sifting through the weeds a bit easier.
They do not offer as many titles as some others on this list. However, what they offer is high quality is enough to make them one of my go-to Coke and Popcorn alternatives.
Coke and Popcorn Alternatives for Your Mobile Devices
Videomix.ro
Videomix is an excellent option for those who like to watch movies or tv shows while on the go. It is a free mobile app that allows you to stream straight to your cell phone or tablet.
Videomix has created a super easy-to-use and clean interface. You simply type what you are looking for into the search bar and are ready to go. They also have tons of categories, from the latest movies to the best classic cinema online. Not into movies? That's okay because they also have all your favorite tv shows, including the latest episodes of The Walking Dead and Game of Thrones, in high definition. Also, check out the trending section to see what other movie lovers are watching.
This alternative for Coke and Popcorn may function a little differently than the other. It is still one of my favorite places to watch movies and tv shows online for free.
GoWatchIt
Go Watch It is another excellent alternative for Coke and Popcorn for those who like to stream tv shows and movies on the go. This is another streaming platform app full of some of the latest content available. Their website also offers to buy and rent HD quality TV shows and movies. Now you can watch your favorite movie or tv show whenever you like.
MovieBox
Moviebox is another mobile app for the streaming of movies and TV series. Just download the app and start watching your favorite movies and shows.
The app works for iOS, Android, and even windows phones. They also carry a great selection of HD movies from any genre you can think of. They also do not require an email address or registration of any kind.
MovieBox is not my favorite app to stream movies on this list, but they are pretty good. However, they are the best alternative to Coke and Popcorn if you need an app to work on your Windows phone.
Honorable Mention Coke and Popcorn Alternatives
I'm sure with the list above. You will find something that works for you. If not, here is another small list of Coke and Popcorn Alternatives. I have not used most of these sites much, but they come with decent reputations.
Tv muse
Vexmovies
Toxicwap series
02TVseries
TVshows4mobile
Yidio
Fastdrama
ProjectFreeTV
LetMeWatchThis
TVReap
Vumoo
Icefilm.info
Genmovies
Movie4k
With this extensive list, I have no doubts you will be able to find the coke and popcorn alternative that is right for you. These are the best Coke and Popcorn alternatives for 2020 I could find. However, things change fast, and new ones pop up every day. So if you know of any sites that were not covered in this post, then please feel free to leave your favorite alternatives to Coke and Popcorn in the comments below.