Becoming a medical doctor is a worthwhile journey. However, this doesn't happen overnight. You have to endure intense learning and practice for a few years to qualify and become a licensed medical doctor. If you're set to become a doctor, here's a guide you can follow to assist you in achieving your ambition.
Explore Your Options
Before starting your medical career journey, you must thoroughly research what you're getting yourself into. If you aspire to be a physician, conduct educational consultations with doctors and obtain some medical experience to gauge whether you'll succeed in the field.
The process of applying to med school can be grueling and tedious. Therefore, look for undergraduate universities with qualified pre-medical student mentors and excellent research alternatives. The pre-med school that you decide to enroll in will greatly determine the type of support and network you'll get. You could pick from these excellent universities if you're still in high school and haven't decided which pre-med school you'll attend.
Earn A Bachelor's Degree
Although medical schools don't usually need applicants to take any specialized major, more often than not, they require you to complete prerequisite courses before you can join. Obtaining a degree in chemistry or biology can significantly help you satisfy these requirements in the course of your undergraduate degree program.
Excelling in subjects like science and mathematics can increase your possibility of being accepted into your selected universities. You could also engage in volunteer or extracurricular activities to enhance your medical school and undergraduate applications.
Pass The Medical College Admission Test (MCAT) Exam
The Medical College Admission Test (MCAT) is usually taken in the senior year of college. This standardized examination gauges your readiness for med school, and your score will determine your acceptance. Grade prerequisites will differ from university to university, but most schools have a minimum score for admission. The exam evaluates your verbal and problem-resolution skills.
To get high scores on the test, prep by studying subjects such as chemistry, biology, and physics. You could also prepare by taking online classes or tests and buying or getting MCAT review books from the library before the exam. As soon as you're eligible, take the test, as applicants can do the exam up to three times yearly.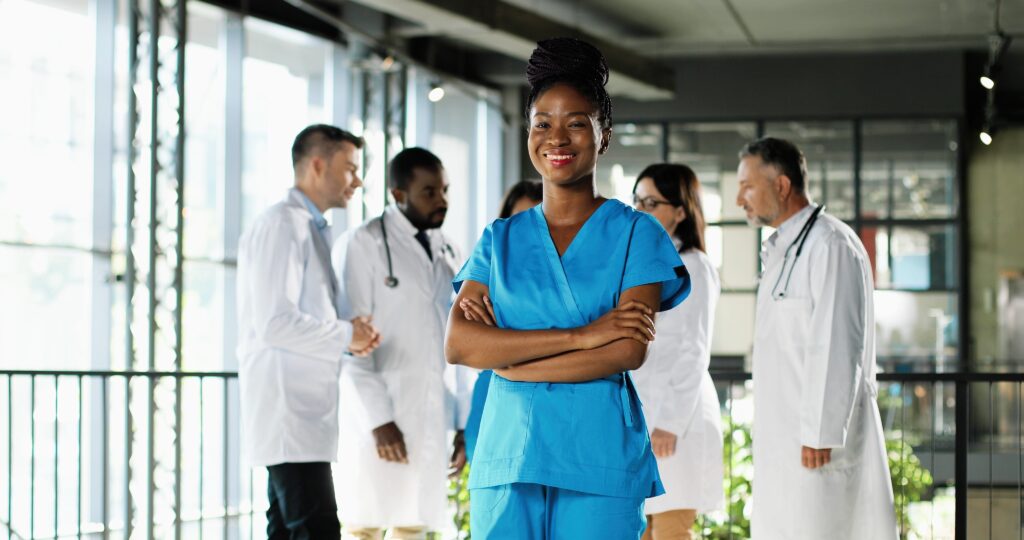 Enroll In Medical School
Most applicants apply to medical school using the American Medical College Application Service (AMCAS). This centralized database enables you to locate application details for medical schools in the country and apply using the system.
After applying and getting admitted to a medical school, programs usually take about four years to complete. The program of study is divided into two sections: class lectures and practical clinical lessons with qualified doctors that'll enable you to master diverse medical specialties. Some of the major subjects you'll take in med school include:
Anatomy
Biochemistry
Physiology
Neuroanatomy
Pathology
Pharmacology
Microbiology
Immunology
These courses are essential to any subspecialty field you may choose and are central to the study of medicine. During your third year, you'll have more time to study specific branches such as pediatrics, family medicine, and emergency medicine, among others. Some of these courses can be taken online by a provider like Corexel. You can visit their website to learn more about Corexcels courses.
Pass The First Two Parts Of The USMLE
The next step is passing the United States Medical Licensing Exam (USMLE). This examination assesses your fitness as a doctor, including your basic knowledge and comprehension of medical practices and procedures. The USMLE comprises three sections, and you'll take the first two parts while in medical school.
The first exam is a multiple-choice test that you'll take during your second year, focusing on the core branches of medicine. Meanwhile, the second exam is taken during your fourth year, which includes a multiple-choice test and examining actors playing as patients.
Choose Your Specialty And Start A Residency Program
In your fourth year of medical school, you'll choose an area of expertise to pursue in your residency. A residency is a training program that enables you to practice your specialty as a trained doctor while supervised by an expert in your field. Depending on your specialty, you can take three to seven years to finalize the residency program.
As a resident, you'll be dealing with patients directly. This includes examining, diagnosing, and treating patients and conducting medical tests and procedures. You will also receive feedback from your supervisor, enabling you to know your strengths and weaknesses and strengthen your skills in the field.
Pass The Third Part Of The USMLE And Obtain Your Medical License
The third section of the USMLE is taken during your first year of residency. The exam evaluates your proficiency in practicing medicine correctly and the diagnosis and treatment of patients. It involves a two-day examination comprising multiple-choice questions and case studies.
Whatever state you're in requires you to excel in all three parts to obtain your license as part of medical credentialing. Other prerequisites for obtaining a license include completing one year of postgraduate training and mental and physical health assessments.
Conclusion
In spite of the journey being long and challenging, it will be worth it in the end. Get into a suitable med school, excel in your studies, and pass all the necessary examinations. With patience and diligence, you can achieve your dreams of becoming a medical doctor.