Shea butter is made from the nuts of the shea tree found in some parts of West and East Africa. Shea butter has been steadily gaining popularity because of the properties it carries. It's now added to many beauty products however, to fully benefit from its goodness, you should use it in its unrefined form. It has a high concentration of fatty acids, minerals, and vitamins. It also contains anti-inflammatory, anti-oxidant, anti-microbial, and anti-fungal properties which help in soothing, repairing, and healing the skin. When warmed, it's smooth in consistency, light, easily absorbed by the skin, and has a low risk of allergy. It's also believed that its properties boost collagen production and promote cell regeneration.
To tap the goodness of raw shea butter, below are some ways you can use it:
For Cooking
Unrefined shea butter is loaded with healthy fats and is a healthy substitute for margarine or dairy butter. You can use it as a spread in sandwiches and toast. You can use it in pancakes and to bake cakes and cookies. Melted raw shea butter makes a great oil for frying or sautéing vegetables and meat. Mixed with herbs and spices, melted raw shea butter is used to dress salads and other dishes.
Moisturize Dry Skin
Raw shea butter is a perfect match for dry skin because it contains properties that are almost similar to those produced by the skin's sebaceous glands. One of the properties known as linoleic acid promotes skin hydration and will help to lock in moisture in your skin. The advantage of using raw shea butter as a skin moisturizer instead of store-bought ones is that it's free from chemicals or additives and you're unlikely to suffer any allergies.
For Hair
Raw shea butter has become one of the to-go-for hair products and with good reason, because it offers a myriad of benefits for the hair. Using unrefined shea butter will provide a protective barrier for your hair from the harmful rays of the sun. Its anti-inflammatory properties will soothe dry and itchy scalp and it can also condition and moisturize your hair while sealing its cuticles. Using raw shea butter on your hair will define your curls, add volume and stimulate hair growth.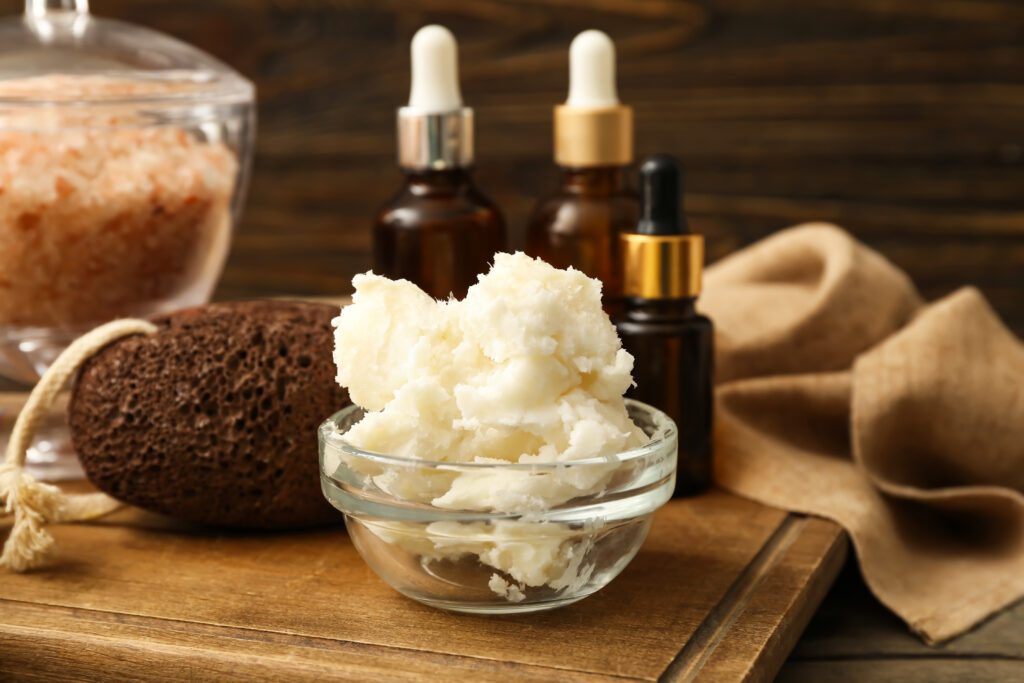 Soothe Dry Lips
Raw shea butter is the perfect balm for dry, chapped, and bleeding lips. It'll soothe, lubricate, heal, and seal in moisture. You just need to massage a reasonable amount to your lips several times a day and within a short time of use, your lips will be soft and smooth. It can become your lifesaver during winter or summer when the weather gets overly dehydrating.
Lessen Stretch Marks
Regular use of raw shea butter on the area of your skin with stretch marks will repair damaged skin cells and make your skin healthier. Mixing raw shea butter with other products has also been found to be effective in lessening the appearance of stretch marks and making the skin look better.
Reduce Eczema And Acne
Eczema is characterized by itchy, dry, and flaky skin which can only be relieved by moisturizing. Raw shea butter will absorb quickly into the skin and offer speedy relief. It's also gentle and is believed to be effective in clearing eczema just like medicated creams would. Moreover, the unique composition of fatty acids found in unrefined shea butter will help in reducing excess production of oil on your skin. It's therefore perfect to contain and combat acne breakouts.
Heal Cracked Heels
Cracked heels are a walking discomfort and can lead to infections, and rob you of your esteem. The emollient, anti-inflammatory, and anti-oxidant properties found in raw shea butter will help in moisturizing, soothing, healing, and reduction of redness in your cracked heels. Raw shea butter has also been found to contain anti-microbial properties which prevent some strains of bacteria and help fight off any infections from your cracked feet.
Balm For Insect Bites
Most insect repellants in the market contain chemicals that are toxic to the skin and can cause allergies that's why many people are looking for natural alternatives. The anti-inflammatory properties found in raw shea butter make it the perfect solution for insect bites. When you apply raw shea butter on the affected area, it'll bring down the swelling, reduce the itch, and soothe the skin. An effective mosquito repellant can be made by mixing eucalyptus or lemon with raw shea butter.
Use With Shaving Cream
Slathering some raw shea butter to act as a base for shaving cream will create a barrier over your skin to protect it from damage and irritation. Your skin will feel smooth and moisturized after the shave. Raw shea butter will also help reduce redness and prevent razor bumps from forming. However, if you already have them, apply raw shea butter to the affected area several times a day to combat the itch and pain which can eventually lead to healing.
Use As A Carrier Oil
Raw shea butter has been known to be a great carrier oil. It can be infused with essential oils to reduce their potency and also to make body products such as hand and body creams, and hair products.
Conclusion
Raw shea butter has many benefits you can get from it. Guided by the ways mentioned above, and its myriad uses, don't you think it's time to grab a jar of this wonderful natural product.